Ruger 10/22 Takedown Carbine Semi-Automatic Rimfire Rifle 22 Long Rifle 16.4″ Barrel Black and Black Fixed
The Ruger 10/22 Takedown features an easy takedown for quick separation of the barrel from the action for ease of transportation and storage. Simple reassembly allows for a secure connection of the barrel and action and returns the firearm to zero, even when receiver mounted optics are used, ensuring consistent accuracy. The 10/22 Takedown Carbine has a carbine style stock with barrel band and is checkered on the forearm, pistol grip and butt plate. The black composite stock is made of a thermoplastic polyester resin, reinforced with fiberglass for strength, durability, and resistance to the elements. The Ruger 10/22 rifles and carbines have a cross-button safety which is located in the forward portion of the trigger guard. The safety can be operated only when the hammer is cocked. This model uses the same ten-shot rotary magazine as the standard Ruger 10/22 Carbine.
The Magpul X-22 Backpacker stock takes the function of the full-size Hunter X-22 Takedown, and pares it down for ease of storage and transportation. The X-22 Backpacker offers a minimalist solution for the hunter or outdoorsman who wants to transport their rifle in an efficient, convenient package without compromising shooting performance. Constructed of a durable advanced polymer, the X-22 Backpacker features an ergonomic hand guard, optional QD sling mounting capability, integrated storage compartment in the grip, a hinged storage compartment in the stock capable of storing up to 3 spare 10rd magazines, a MOE SL non-slip rubber butt pad, and a unique locking interface to attach the barrel assembly to the receiver when being transported.
Features
Four 10-round magazines included
Extended magazine release
Combination scope base adaptor
Polymer trigger housing
Weather resistant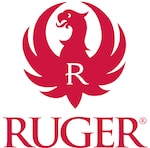 Made In United States of America
Specifications
Product Information
| | |
| --- | --- |
| Cartridge | |
| Capacity | |
| Weight | |
| Overall Length | |
| Barrel Length | |
| Twist | |
| Threads | |
| Hand | |
| Youth | |
| Action Type | |
| Stock Type | |
| Stock Material | |
| Stock Color | |
| Safety | |
| Threaded Muzzle | |
| Barrel Finish | |
| Front Sight | |
| Rear Sight | |
| Case Included | |
| Frame Material | |
| Scope Included | |
| Frame Finish | |
| Fluting | |
| Country of Origin | |
| Included Mounts | |
Delivery Information
| | |
| --- | --- |
| | Yes |
| | 6.100 Pounds |